Harold Chance 1921-2010 -
Richard "Harold" Chance began Chance Manufacturing by building miniature trains and by the time he retired in 1985, he had turned the company into America's largest builder of amusement rides.
Harold was the driving force behind the 12" gauge Ottaway Steam Trains upon returning from the service taking over production from his brother-in-law Herb Ottaway. After producing the final steam train in 1957 he went on to form Chance Manufactering and expand it into a word leader in the amusement industry.
We will remember him best at the throttle of the 4-6-0 on his Peppermint Park Railroad where he entertained his guests from across the country and around the world.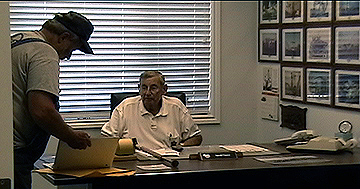 Harold Chance with Mike Hawkins